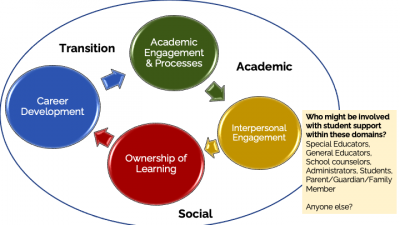 Measurement Study funded by the Institute of Educational Sciences to be carried out from 2019-2023, based on a five domain assessment framework

Listen to Principal Investigator Allison Lombardi describe more details on a recent UConn 360 podcast interview:
Dr. Lombardi describes the 5-domain assessment framework and measuring Sense of Belonging, which is included in the Interpersonal Engagement domain.
The Practice Brief Leveraging Features of of the PBIS Framework to Support College and Career Readiness was published by the Center on Positive Behavioral Interventions and Supports
Drs. Lombardi, Morningstar, and Mazzotti present findings from the Year 1 activities, including the Systematic Literature Review and Focus Groups.
Contact: Allison Lombardi allison.lombardi@uconn.edu for more information about field-testing